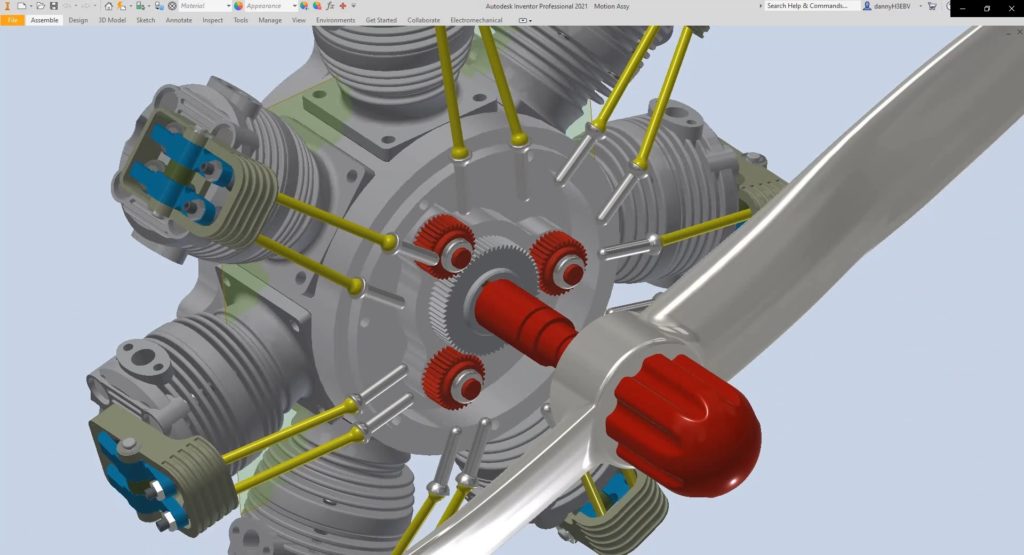 Introduction
Autodesk Inventor is the foremost application from Autodesk for designing products with 3D CAD. Like most 3D CAD applications, Inventor has historically relied greatly on single-thread CPU performance. With the release of the AMD 5000 series CPUs, we wanted to see how the latest AMD processors fared in Inventor.
The new AMD processors have been touted to greatly improve single-thread performance over the 10th generation Intel CPUs due to improvements in Instructions-Per-Cycle (IPC) on AMD's CPU architecture. Additionally, taken with a grain of salt, this post should also serve as a reasonable indicator of the AMD 5000 series CPU's performance in other Autodesk engineering applications such as Revit and AutoCAD, as Autodesk tends to package different flavors of a similar 3D engine across their products.
Hardware Contenders
| CPU | Physical Cores | Threads | Max Clock Speed (GHz) |
| --- | --- | --- | --- |
| Intel Core i5-10400 | 6 | 12 | 4.3 |
| Intel Core i7-10700F | 8 | 16 | 4.8 |
| Intel Core i7-10700KF | 8 | 16 | 5.1 |
| Intel Core i9-10900KF | 10 | 20 | 5.3 |
| AMD Ryzen 5 5600X | 6 | 12 | 4.6 |
| AMD Ryzen 7 5800X | 8 | 16 | 4.6 |
| AMD Ryzen 9 5900X | 12 | 24 | 4.8 |
| AMD Ryzen 9 5950X | 16 | 32 | 4.9 |
The Test Environment
For our tests, we used the InventorBench HD tool from Micrographics. We ran 10 passes on each hardware configuration and used the results that the tool generated. As of writing this article, InventorBench HD is not yet available to the public but soon you'll be able to find it on their website. You can still download the classic InventorBench program there now, which also gets the job done nicely. Below, you can also check out our highlight video that includes some footage of the operations InventorBench HD performs during the benchmarking process.
Intel Test Platform

Components


Brand / Model
Cooler
Corsair H115i Pro XT
GPU
Nvidia Quadro P2200
RAM
Corsair Vengeance 32 GB
SSD
Samsung 970 Evo+
Motherboard
Gigabyte Z490 UD
AMD Test Platform

Components


Brand / Model
Cooler
Corsair H115i Pro XT
GPU
Nvidia Quadro P2200
RAM
Corsair Vengeance 32 GB
SSD
Samsung 980 Pro
Motherboard
Gigabyte X570 UD
Results
Note: The GPU test was conducted on the AMD platform with the Ryzen 9 5950x CPU
Takeaways
The new AMD 5000 series CPUs put up some very staggering results against the 10th generation Intel processors in terms of performance. The AMD processors are still in short supply and command a high price tag, so the Intel Core i7-10700K or the Intel Core i9-10900K are still usually going to be the best value for the money on high performance. We also found that the last generation, AMD Zen 2 CPUs, had lackluster quality control compared to the 10th gen Intel CPUs which have been practically bulletproof.
As of right now, we are still recommending that customers stick with the Intel CPUs for maximum reliability until AMD has proven their track record on the new generation. That being said, if maximum performance as your highest priority, AMD has definitely succeeded in dethroning Intel in the performance race. The AMD 5000 series CPUs also allow you to use a PCIe 4.0 NVMe SSDs for speeds up to 7000 MB/s instead of capping at the 3500 MB/s you would get from the PCIe 3.0 NVMe SSDs that are compatible with current Intel CPUs. However, doubling the speeds didn't seem to affect file export or save times all that tremendously, so it's probably not a major bottleneck for many current CAD modeling applications.
As a bonus test, we also found that Inventor is quite indifferent about which GPU you use. We confirmed our results with an additional intensive graphics test outside of InventorBench HD that we worked together with one of the developers on. He had this to say: "I was hoping to get some more differentiation between the VGA cards, but it looks like that's it. It caps it after a certain point. So for customers using other products in the Autodesk Manufacturing collection, a more high-end card could still be of benefit if they use the likes of 3DS Max or AutoCAD Plant 3D etc."
For Inventor, we still recommend going with at least a Quadro P1000, or better yet, a Quadro P2200 in order to have a nice cushion on graphics performance. This is especially true if there are other programs involved in your workflow. Users of 3DS Max and users doing any sort of rendering will likely want to look more in the range of the RTX 3000 series cards. Autodesk officially certifies the Quadro cards but the GeForce cards with studio drivers have also served very well in our experience. As always before purchasing a workstation, it's a good idea to contact us where you can quickly speak to an expert on specific configurations and advice tailored to your workflow.