Introduction
This post is going to be a brief instructional guide on how to remove that pop-up 'Upgrade to Windows 10' notification from your Windows 7 or 8 PC. For those who don't plan on updating to Windows 10 soon, the notice serves as nothing but a nuisance. Fortunately, it's quick and simple to remove.
How to Remove
Click Start and type into the search bar 'Windows Update'. Click the Windows Update link that shows up.
In the bottom left corner, click the Installed Updates link.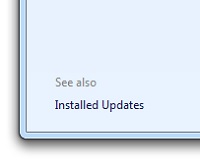 In the search bar at the top of the page, type in (or copy and paste) KB3035583. You'll see the list of updates shrink down to a single update – 'Update for Microsoft Windows (KB3035583)'. This is the target.
Right click on the update link, and click Uninstall. Click 'Yes' when it asks if you're sure you want to remove the update, and wait for a few seconds for the uninstall to process.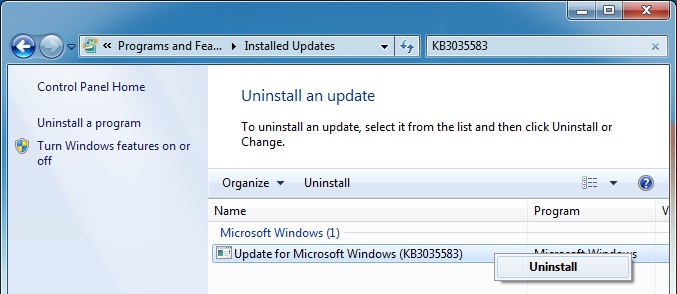 Restart the PC when prompted. Once you're PC has been restarted, the update should be gone permanently. If you still find remnants of the the 'Upgrade to Windows 10' notification, repeat the steps above for Windows Update KB2976978.
Note: If the update does come back, you'll need to hide it in Windows update. To do that, go to 'Windows Update', view the list of available updates, right click on KB3035583, and click 'Hide Update'. You can always restore a hidden update by clicking 'Restore Hidden Updates' on the main Windows Update page.