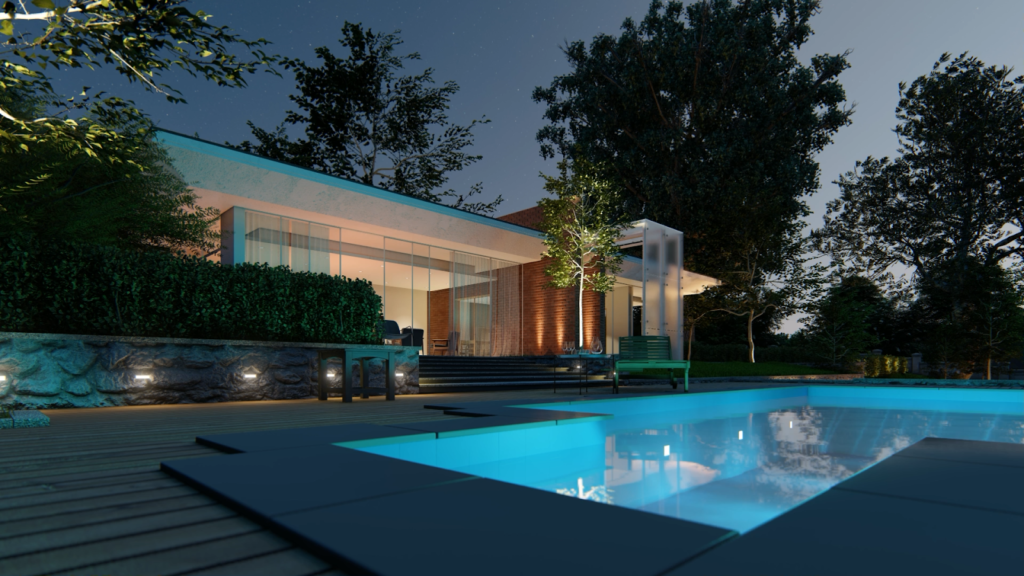 Introduction
We're very excited to explore the new Lumion 11 with a full range of the latest and greatest RTX 3000 series GPUs from NVIDIA.
A little over a month ago, we checked out the performance of many top contenders of the old generation of NVIDIA graphics cards in Lumion 10.5 in this article, The Best GPUs for Lumion 10.5 (Fall 2020). The RTX 3080 showed quite promising results for Lumion 10.5, and provided a case study for how the RTX 3000 series stands head and shoulders above the last generation. As a result of their success, the RTX 3000 cards were still quite hard to come by. Nvidia just inked a deal with Samsung to produce its chips for their new GPUs, which should help bolster supply in the months to come. All talk about relative card price is based on their MSRP, though these cards are not generally available at those prices as of late 2020.
Buy your preconfigured Lumion workstation at one of these links:
Our Contenders
Our test was comprised of every single current member of the RTX 3000 series cards
GeForce RTX 3060 Ti
The new gold standard for price-to-performance. This card beats a 2080 SUPER for half the price.
8GB GDDR6, 448 GBps Memory Bandwidth
4864 CUDA Cores
16.2 TFLOPS FP32 Performance
GeForce RTX 3070
A solid upgrade to the 3060 Ti without breaking the bank. It's closest competitor is the RTX 2080 Ti.
8GB GDDR6 – 448 GBps Mem Bandwidth
5888 CUDA Cores
20.31 TFLOPS FP32 Performance
GeForce RTX 3080
The new heavyweight card that far exceeds all RTX 2000 series cards' performance.
10 GB GDDR6x, 760 GBps Mem Bandwidth
8704 CUDA Cores
29.77 TFLOPS FP32 Performance
GeForce RTX 3090
The most powerful consumer GPU Available today. It's performance is completely unparalleled and it's absolutely massive too. The founder's edition of this card weighs almost 5 lbs on it's own.
24GB GDDR6x, 936.2 GBps Mem Bandwidth
10496 CUDA Cores
35.58 TFLOPS FP32 Performance
The Test Machine
Here is the configuration of the testing machine that was used:
Motherboard: Gigabyte Z490 UD
CPU: Intel i9-10900K
CPU Cooler: Corsair H115i PRO XT
RAM: Corsair Vengeance 64GB 2666 MHz
Hard Drive: Samsung 970 Evo+ 250 GB
Results
For our formal tests (any test we make a graph of), we perform at least 3 trials to gauge the consistency of our tests and then average the results after re-testing to eliminate any outlier runs.
With all that said, let's get down to the numbers.
This render were performed on the Exterior Pool Pan view on the Villa In Casale example model at 1080p@25FPS in 5 star quality.
We wanted to test out the cards on an all-new feature in Lumion 11. The 360 degree panoramic photo render.
This renders were performed on the 360 Panorama on the Downtown Development example model at 1080p@25FPS in 5 star quality.
This graph is a little bit unconventional compared to some of the other graphs that we publish but the idea here is to compare each card to the new price-to-performance champion. The RTX 3060 Ti. The orange bars represent how much faster videos will render on a given card versus the 3060 Ti, the blue bars represent the amount extra you would have to pay to achieve that performance based on the MSRP of each card. The best case scenario would be that orange is as large as possible when compared to blue.
Other Results
We also performed a few other tests in our exploration.
The first one was a RTX 3090 render on 4K@200 FPS with the full movie including all the clips on the Residential Home example file. This took about 28 hours and 24 minutes, to give you a baseline.
The other test was the exact same render as featured in our first graph but with an Intel Core i7-10700K and an RTX 3090. Interestingly, it was actually 1-2% above of our i9-10900K and RTX 3090 test results. This means that for many models an i7-10700K will not be a bottleneck with a powerful GPU and it can be worthwhile to consider saving the money on the CPU upgrade.
Lumion also has it's own simple benchmark built-in so here you can peruse what each card buys you:
RTX 3090
RTX 3080
RTX 3070
RTX 3060 Ti
We hope you enjoyed this exploration! Stay tuned as we intend to dive deeper into more new features of Lumion 11 and how they impact hardware. We have lots more Lumion content planned for 2021 so stay tuned!