Introduction
Whether you're a CAD/CAM power-user who needs instantaneous project file access and save times or you're a day trader who's backtesting massive stock datasets, storage speeds are a critical concern. Up to this point, the maximum storage speed a power-user could reasonably expect was somewhere in the region of 550 MB/s (Mega Bytes per second) from a high-performance Solid State Drive and around 150 MB/s from a standard Hard Disk Drive. Today, Intel has shattered those expectations with their 750-Series NVME PCI-e Solid State Drive, which in our independent testing achieved read speeds near 2,400 MB/s. That's a mind blowing, game changing figure that quadruples our previous highest expectations. Perhaps the best news of it all is the Intel 750 is fully bootable on all X99/Z97 motherboards that Orbital Comptuers offers with Windows 7, 8.1, and 10. How did Intel do it and what does it mean for you? Read on to find to find out.
Storage Interfaces – A Primer
For modern computers, the main storage interface used for the past decade or so is called SATA, which stands for 'Serial Advanced Technology Attachment'. Simply put, it's the connection interface that allows hard drives and solid state drives to 'speak' with the rest of the system. All your long-term data like your operating system, all your program files, project files, historical stock data, etc are stored permanently (more-or-less) on your storage device via the SATA interface. For years, computer scientists and engineers have been incrementally increasing the speed capabilities of the SATA interface over 3 major revisions:
(The higher that bandwidth throughput value (given in MB/s), the faster your programs and files are accessed, copy, open and save, etc.)
The nacent competitor to the SATA interface is called PCI-e, which stands for Peripheral Component Interconnect Express. The PCI-e interface is where we normally plug in resource-intensive components like the video card and sound card and can be used to provide further expansion for items like USB ports, Thunderbolt Ports, etc. Long story short, a Generation 3 PCI-e x4 interface can support speeds up to 3,940MB/s. By comparison, that's about 6.5 times faster than the latest generation SATAIII interface. The PCI-e connector is the prime target for storage speed-demons looking to maximize their transfer speeds and it's what Intel has tapped into with it's 750 NVME SSD.
The Numbers
Elementary math and theoretically expected transfer rates aside, what we really care about is the raw data – how fast do current HDDs/SSDs really run? We put that to the test.
Test System:
Orbital C3000 Pro
Intel Core i7 5820k, 6-cores 12-threads @ 4.50 GHz
16GB Crucial DDR4 2400MHz RAM
NVIDIA GTX Titan 6GB VRAM 2304 CUDA Cores
Windows 7 Ultimate 64-bit
Test Drives:
Western Digital 3TB Green Hard Disk Drive (SATAIII)
Samsung 850 Pro 256GB Solid State Drive (SATAIII)
Intel 750 NVME 400GB Solid State Drive (PCI-e)
Results:
| | |
| --- | --- |
| WD-HDD (SATAIII) | 124 MB/s |
| Samsung 850 Pro SSD (SATAIII) | 560 MB/s |
| Intel 750 PCIe SSD (PCI-e x4) | 2,368 MB/s |
| | |
| --- | --- |
| WD-HDD (SATAIII) | 115 MB/s |
| Samsung 850 Pro SSD (SATAIII) | 530 MB/s |
| Intel 750 PCIe SSD (PCI-e x4) | 1,090 MB/s |
Results (Graph):
(Higher is faster)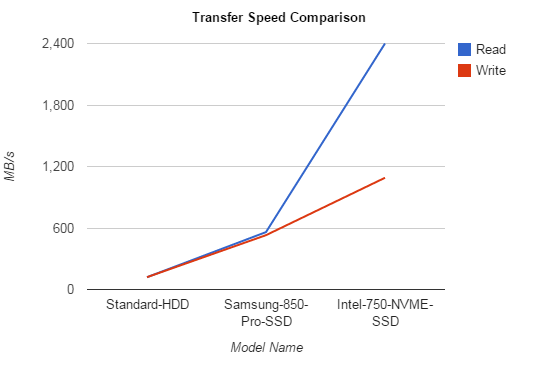 Conclusion
The Intel 750 Series NVME PCI-e SSD represents an immense leap in performance over previous generation storage devices. It's performance gains can be realized by average users performing common computing tasks all the way up to the most demanding power-user professionals who need maximum I/O speeds. When compared to the highest-end SATAIII SSD, the Samsung 850 Pro, the 750 series PCI-e SSD offers 4x better Read performance and about 2x Write performance. When compared to the traditional HDDs many of our competitors are still offering as the standard storage component, the Intel 750 Series SSD offers an incredible 20x and 9x improvement in Read/Write speeds respectively. Intel offers the 750-Series NVME PCIe SSD in two sizes – 400GB and 1,200 GB with the latter option performing slightly faster than the 400GB model that we tested.
Intel's 750 Series NVME PCI-e SSD gains the Orbital Computers seal of approval and is available for integration on most of our trading computers and CAD/CAM workstations.