Introduction
As we all know, even the smallest amount of extra noise in an studio environment can be a liability. An ideal audio workstation PC with the proper optimization should be able to run the most intensive workloads nearly inaudibly. When you're producing, engineering, or anything else, you don't want to be worrying if running a lot of plugins in your DAW of choice will make your fans sound like a jet engine in order for your CPU can keep up. For maximum silence, our goal is to reduce moving parts as much as possible. When we do have to use moving parts (in the case of the cooler and fans), we turn to companies like Noctua, a manufacturer that has gone to extreme lengths to engineer their products to the greatest degrees and backs their quality with hard data. The little noise that Noctua products do produce, we mitigate with acoustic-friendly features inside Fractal Design cases. The PSU is the only other component with any moving parts and we select the highest quality PSUs to mitigate noise as well.
We also recorded a video test to show you just how quiet the operation of the Q2000 is:
Noctua Silent Fans
Noctua Cooler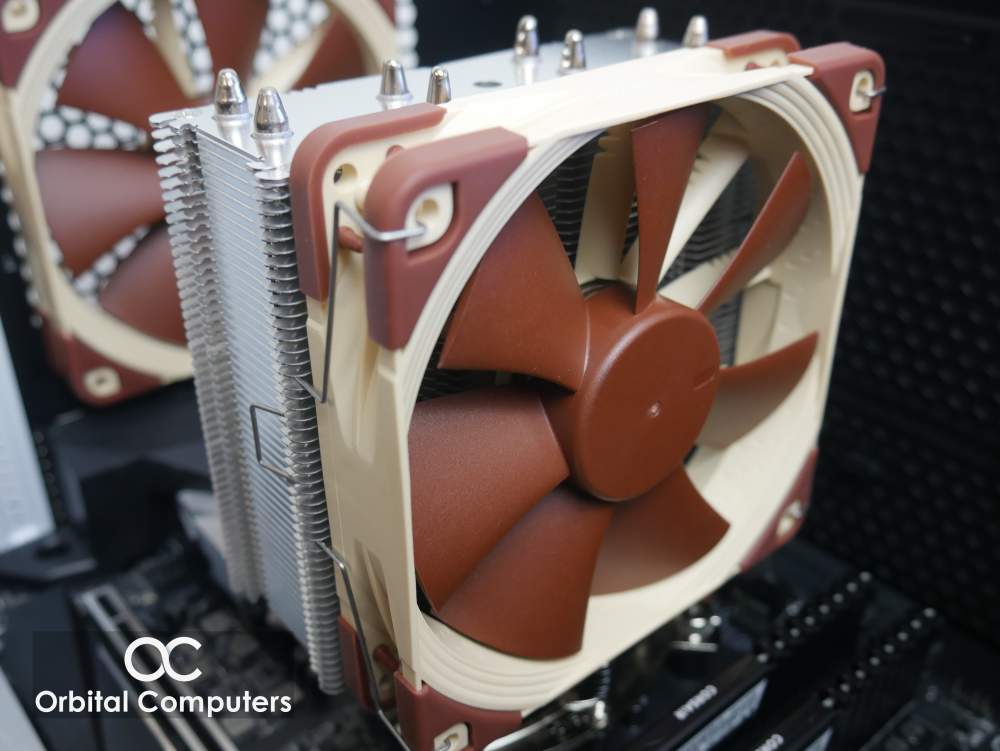 On the Q2000, we use the award-winning Noctua NH-U12S CPU Cooler. This high-end cooler model from Noctua offers an excellent thermal dissipation design that is more than enough prevent the CPU from ever overheating, even after running on full-blast for hours. The NH-U12S Cooler comes with the NF-F12 Fans which have top of the line features engineered by Noctua, being able to cool efficiently while operating as silently as possible, a maximum of 22.4 dBA according to Noctua. The magic of the Noctua fans we use is not that they just run quiet – you can make plenty of other fans run quiet by simply turning their speed all the way down. The magic of these fans is that they run nearly silently, while still providing unbelievable cooling performance that rivals top level water coolers! When you order a Noctua fan in our Orbital Computers Music Production Workstation, we also will tune your fans to provide maximum cooling while keeping the noise to a minimum. We have several tools in our arsenal to accomplish this, but generally it involves using low noise adapters (in-line restrictors) to decrease the voltage being applied to the fan, in the case of non-PWM fans. And in the case of PWM (or Pulse Width Modulating) fans, we tune the motherboard's BIOS profiles such that the fan speeds increase or decrease as a function of CPU temp. When the PC starts warming up, the fans automatically run at slightly higher RPMs to cool the system off, and when the temps come back down, the fans ramp down to run extra silent.
Noctua Case Fan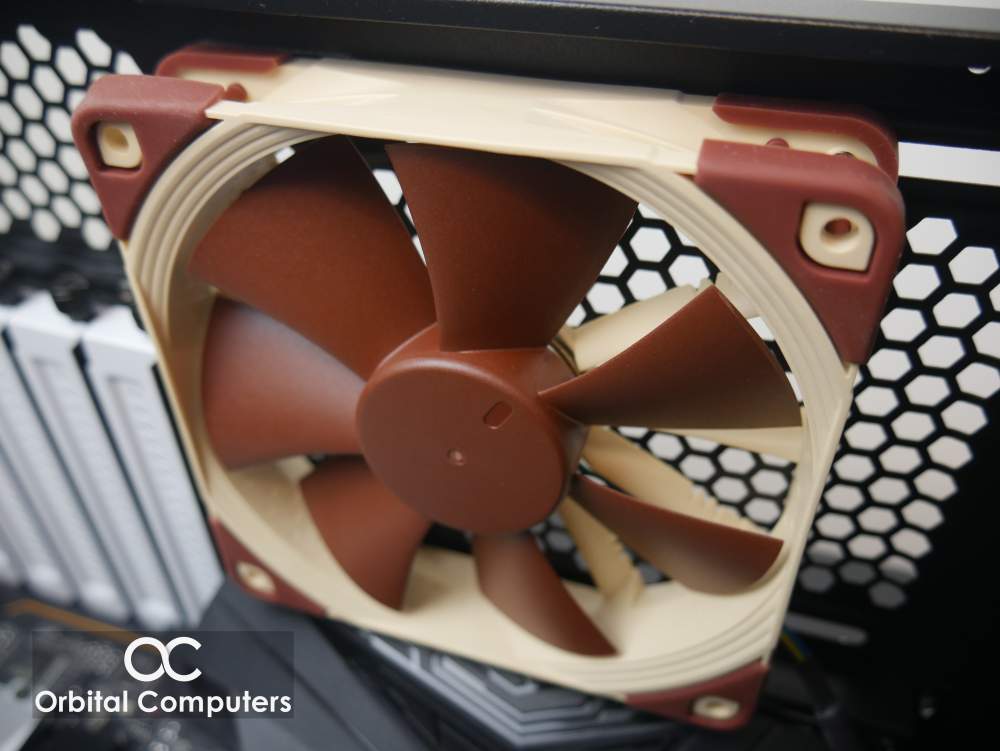 We can also replace the standard Fractal case fans with Noctua fans to improve cooling and silence. Each Noctua Fan mounts to the case (or cooler) with their standard brown anti-vibration pads. We've been using Noctua fans extensively in our Orbital workstations since 2013 and as of April 2021, we have zero reports of any Noctua fan failing. Literally not a single reported failure. Can't find a track record much better than that! These fans are as reliable as it gets.
Silencing Features
Among PC builders, Noctua Fans have gained a legendary status for being packed with a ridiculous number of high- quality engineering features. You can check out their technologies page for more information – https://noctua.at/en/technologies. You could easily spend hours reading about every single feature Noctua puts into their fans but below we've listed a few standouts that help to reduce noise as much as possible.
Quiet Power Supply Units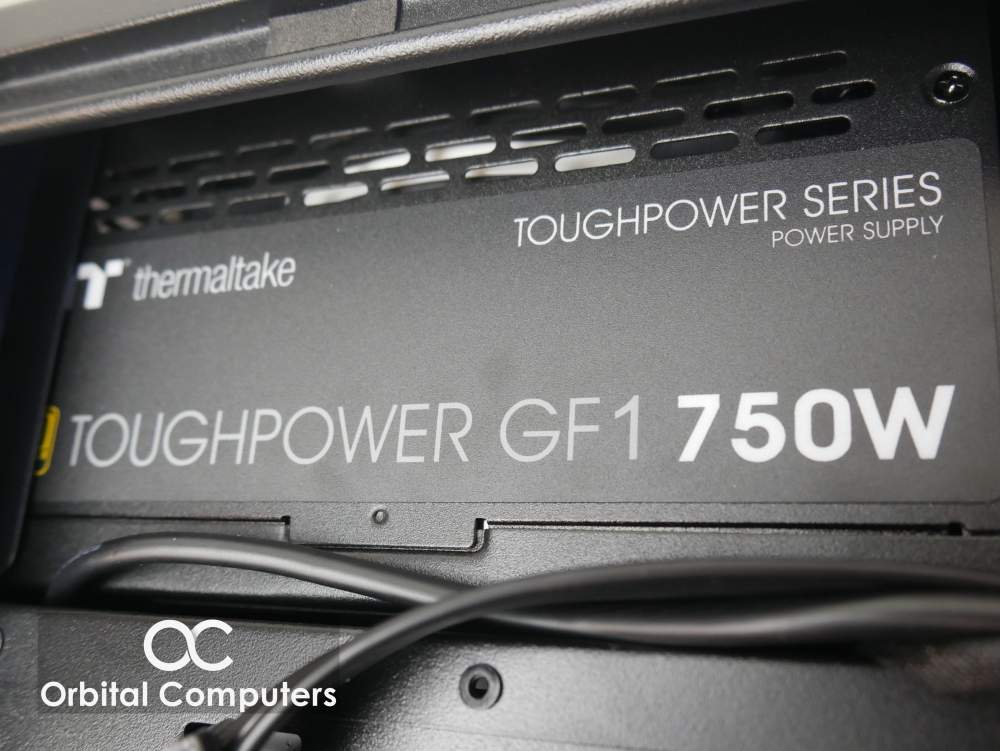 We use only the highest quality PSUs in our PCs. This power supply in particular, the Thermaltake ToughPower GF1, features an Ultra Quiet 140mm Hydraulic Bearing Fan. The fan operates at a maximum of 27.7 dB and features a Smart Zero Fan setting, where the fan will completely shut off when the power consumption is low. This PSU is a perfect example of the standards we have for any PSUs that go into the Q2000. When you order an Orbital Audio Engineering workstation, we spec it out with a properly matched power supply that allows the system to run in the below the 30% load range during most typical workloads, to keep the noise down even further.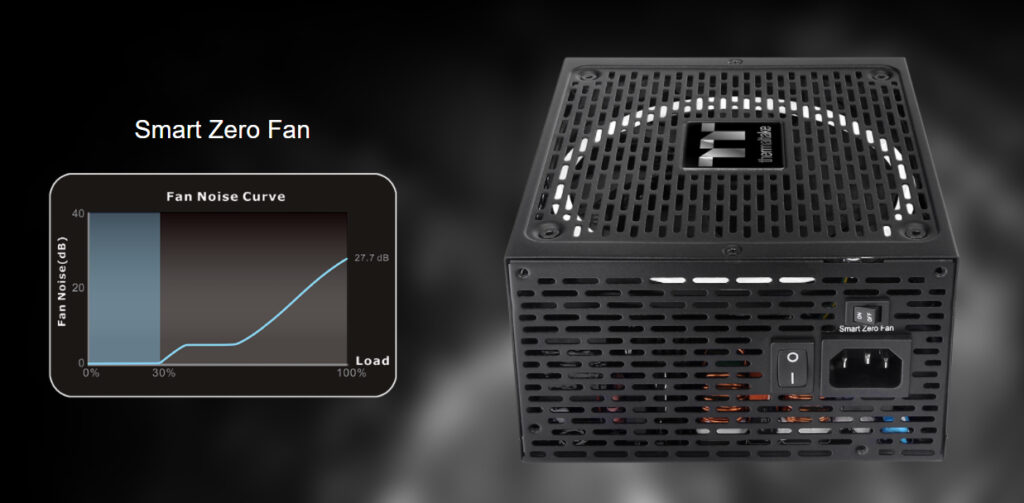 Features we look for in any high-quality PSU that goes into our PCs:
Quiet fan design
Smart Fan / Zero Fan / Eco Mode
Anti-vibration mounting system
Zero audible electrical whine (cheap power supplies commonly have whine)
Electrical coil whine in cheaper power supplies is some of the worst noise a PC can make – it's a shrill, piercing, high pitched noise that can grate on the senses of even those who aren't sensitive to disturbances (and if you're reading this far into this blog post, it's a noise that will drive you positively mad)!
Fractal Design Cases
Using the Fractal Design case, in our testing we were able to reduce the full-blast operating noise by about 5-7 dBA. The Fractal Design cases are extremely stout units, built from top level materials with exceptional build quality for noise reduction, excellent cooling, and system longevity (thanks to removable dust filters that are fast and easy to clean).
Sound-Deadening Foam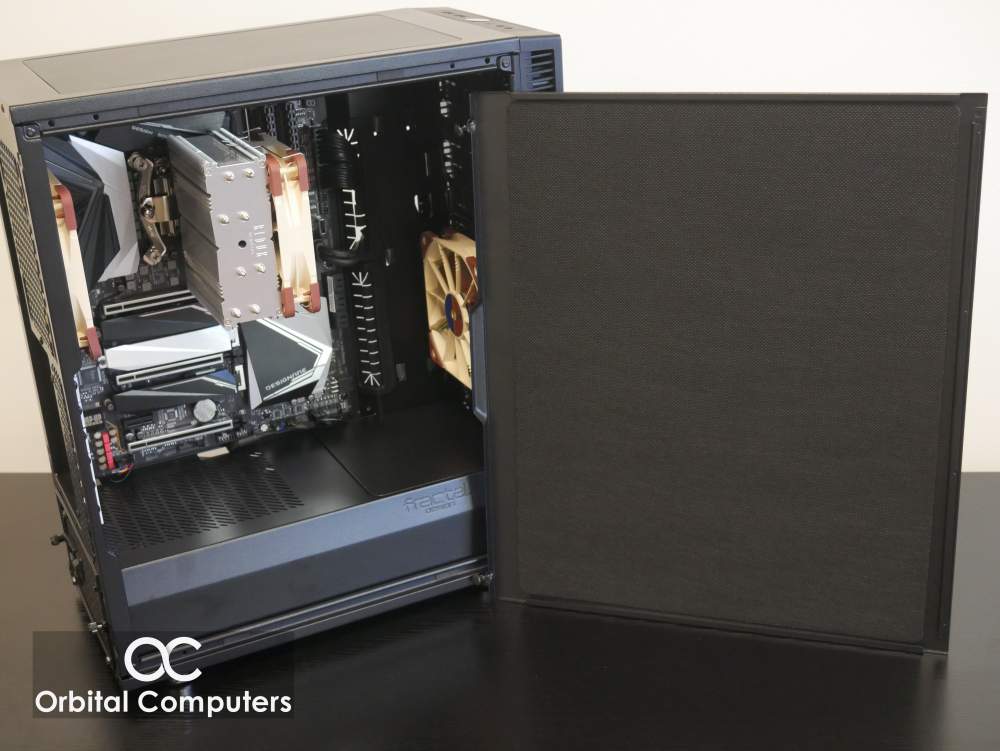 The Fractal Design Define C cases contain 4 sheets of sound-deadening foam distributed on the front, top, and side panels. If you look closely at the top and bottom of the case where the side panels make contact with the case, there's even anti-vibration foam stickers preinstalled from the factory so that the side panel doesn't rattle against the case chassis.
Baffle Design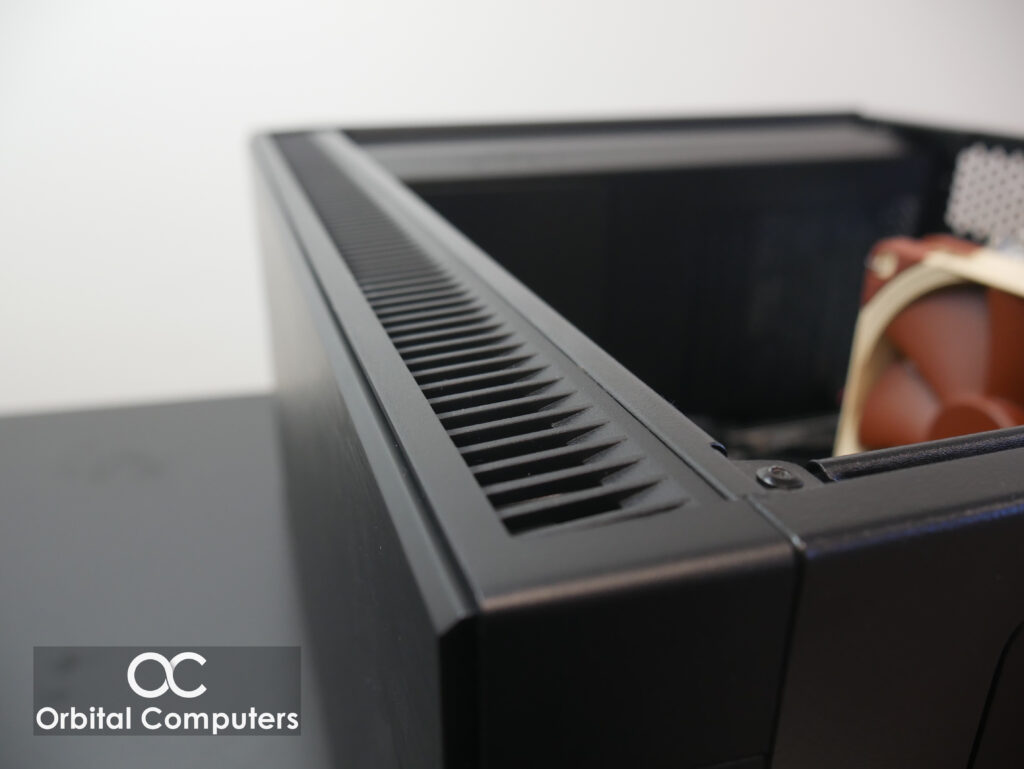 The baffle design allows for excellent airflow while limiting the amount of sound that can escape through the front of the case
Rubberized Vibration-Isolation Feet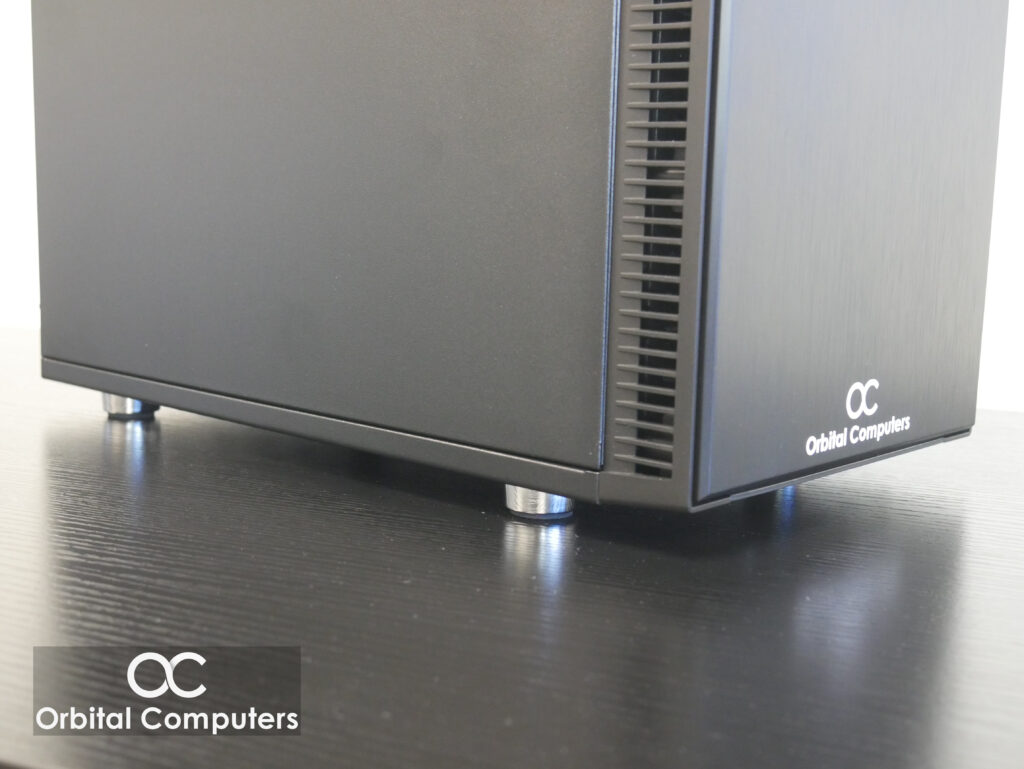 The rubberized vibration-isolation feet ensure that vibrations are absorbed and that no noisy rattles can occur.
Integrated Graphics Card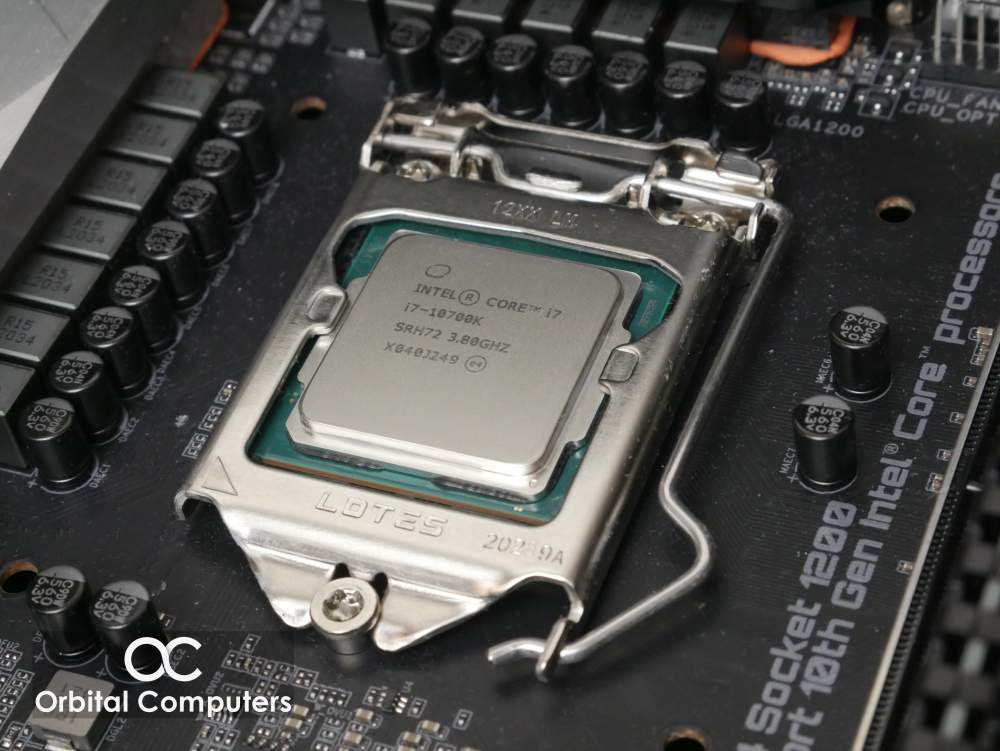 For the the Q2000 model, we've specifically chosen to go with the integrated Intel UHD Graphics 630 that comes onboard with most common models of Intel CPUs. Intel's integrated graphics are actually quite strong these days and performed admirably in our DAW software tests, where 3D graphics performance is a non-factor. The integrated graphics do however generate a fair amount of extra heat on the CPU chip, so it makes it all the more important to use a high-quality CPU cooler, like the Noctua Silent Coolers that come standard with every Q2000.
It also bears mentioning that we initially tried workstation graphics cards such as the Nvidia Quadro P620, but this class of cards wasn't as quiet as we had hoped. The trouble is that almost all graphics cards contain their own fans, and many are not optimized for silence. By sticking with Intel's integrated graphics, we can still support 1-2x 4K resolution monitors but there are no moving parts that can generate noise or degrade over time. That being said, if your workflow contains any graphics intensive software (such as video editing or 3D graphics), our full suite of Quadro and GeForce graphics cards are available for configuration.
Conclusion
To wrap things up, the key to maximizing silence in a PC for music production and audio engineering is to reduce moving parts wherever possible. Where moving parts are necessitated, we use the highest quality parts that provide noise-mitigating features. On everything from the fans to the power supply to the case and more, measures must be taken to ensure the most silent experience possible. For us, that means using a configuration with Noctua Silent fans, an Ultra Quiet Thermaltake PSU, a Sound-Deadening Fractal Design Case, and Intel's Integrated Graphics.