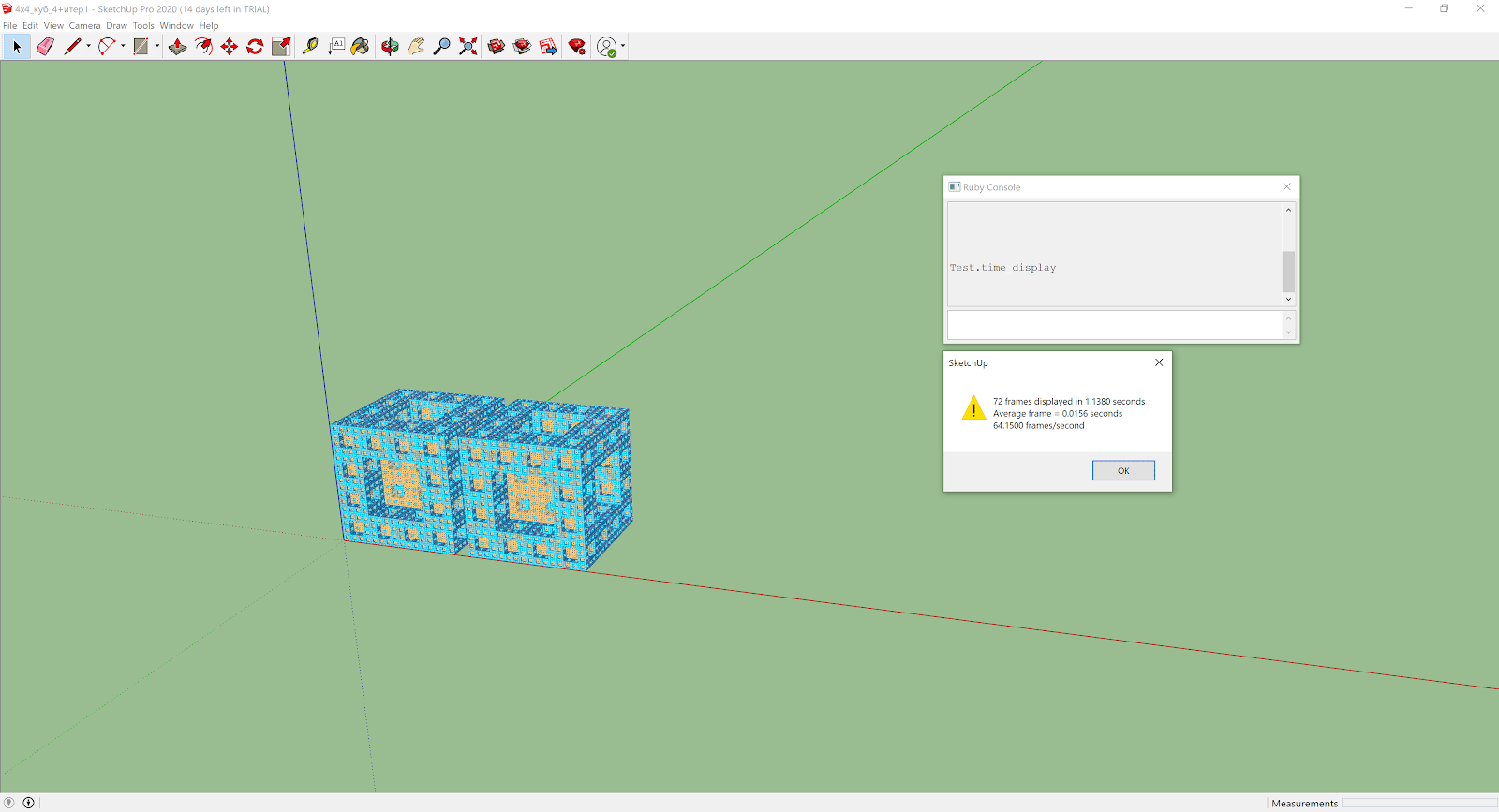 Introduction
SketchUp is a somewhat unconventional piece of CAD software. It competes with other online CAD modeling platforms such as Fusion 360 and Onshape. From a computer performance perspective, there are some odd quirks that come as a result of its need to be web-compatible.
SketchUp has proven itself challenging to narrow down the exact hardware parameters to achieve maximum performance. SketchUp uses some balance of the CPU and GPU to achieve its modeling, but further testing would be required to determine its exact behavior. Furthermore when we tested SketchUp with some seriously powerful hardware, it hit the same bottlenecks that didn't seem to change from any of our parameters. For example, testing with an Intel i9-10900K processor didn't make much of a difference.
Because of these limitations, we decided to focus on catering our tests to finding the most realistic and inexpensive SketchUp configurations rather than trying to push the limits of the software.
One thing of note is that we used the desktop version to carry out our tests, as it showed similar performance results to the web application. The web and desktop version appear to have similar if not identical engines, so you can apply our results for either case when making decisions on your hardware. The desktop app is also more fully-featured and allowed us to better isolate the resources that SketchUp uses as well as offering a built-in test to measure frame rate.
Buy your preconfigured SketchUp workstation at one of these links:
Our Contenders
We tested SketchUp with a wide span of GPUs that included all of the standard options that we offer.
Quadro RTX 4000
The RTX 4000 is the first step in the RTX line of the professional-oriented Quadro series and is nothing to sneeze at when you want to start talking about real graphics performance. It blows every card we tested here out of the water other than the GeForce RTX 2080 SUPER.
Quadro P2200
The P2200 is the most recently launched addition to the Quadro series and serves as our typical mid to high end Quadro card for 3D OpenGL-oriented applications.
Quadro P1000
The P1000 exists in a little bit of a limbo. It's our go-to choice for customers that are looking for an upgrade to the basic performance of the P620 but aren't quite ready to go all the way to the P2200.
Quadro P620
The P620 is our favorite card for cost-effective performance and basic 3D capabilities without breaking the bank.
Quadro P400
The P400 is the cheapest card that we offer, we typically only recommend it to customers that have little to no 3D needs and are mostly focused on 2D CAD applications.
GeForce RTX 2080 SUPER
The RTX 2080 SUPER is close to the top end of our gaming and rendering cards for DirectX-focused applications, beaten out only by the GeForce RTX 2080 TI for specialty applications. It will be replaced by the new generation of RTX 3000 Series cards in the not so distant future, but for the meantime it has served us well.
GeForce RTX 2070 SUPER
The RTX 2070 SUPER is our bread and butter mid to high end 3D rendering card, offering a solid step up from the P2200 without requiring almost doubling the price to get to the RTX 2080 SUPER or the RTX 4000
GeForce RTX 2060
The RTX 2060 is the current-best budget option for DirectX-focused applications. It beats out the P2200 from time to time in various applications at a good discount of the price. It's closest rival in the Quadro series is the P1000.
The Test Environment
The test was conducted by using a built-in frame rate measuring command ("Test.time_display") available via the Ruby console in the desktop version.
We performed 9 trials of this test and recorded our frame rate achieved on the same test file from the exact same view. We took the median three scores and averaged them in order to generate our results for each GPU.
The test file was a model containing 7.1 million edges and 3.9 million faces in order to simulate a realistic upper end for most models.
Here is the configuration of the test machine that was used:
Motherboard: Gigabyte Z490 UD
CPU: Intel i7-10700
CPU Cooler: Corsair H115i PRO XT
RAM: Corsair Vengeance 64GB
Hard Drive: Samsung 970 Evo+ 250 GB
Results
Without further ado, here is what we found.
(Click photo for to maximize)
We observed that this version of SketchUp generally seemed to have a framerate cap of around 61 or 62 FPS on our 1080p 60 Hz monitor. We tested SketchUp on a 1080p 165 Hz monitor and noticed that the cap seemed to increase 63 or 64. We have seen user reports of higher frame rates but we were not able to reproduce any values close to those reports.
Interestingly, the GeForce Cards all seemed to stall out at a lower point than some of the Quadro cards and the Quadro cards were big winners overall, which is not atypical for an application written for OpenGL like SketchUp. The RTX 2060 comes in at a low enough price for these results to be acceptable but the other GeForce cards were subpar. The cheapest card to max out performance was the Quadro P2200 which stands out as our favorite choice. The P620 was only trailing behind the P1000 by a bit and costs 1/2 to 2/3 of the price of the P1000 as of right now. The RTX 2060 and the P1000 are priced competitively and the RTX 2060 is the clear winner.
Rendering
SketchUp is often used with other rendering software/plugins with hardware demands that far outstrip what SketchUp needs. If you use software such as Lumion, V-Ray or similar in your workflow, you will likely need to configure a powerful 3D rendering workstation as your main goal.
For rendering purposes, we recommend selecting a GPU at the absolute bare minimum as powerful as the NVIDIA RTX 2070 SUPER, but you will likely need a lot more power than that. Rendering is also typically going to highly favor GeForce cards over Quadro cards in terms of price. But for just SketchUp, the Quadro cards are generally the heavy hitters.
To find out more about the optimal rendering configuration for Lumion (which can also be used as a starting point for other rendering software) visit our follow-up article at the Best GPUs For Lumion (Fall 2020).
Key Takeaways
All that being said, for just SketchUp itself you'll have diminishing returns going with anything more expensive or powerful than the NVIDIA Quadro P2200.
The NVIDIA Quadro P620 is also a solid standout and offers the best possible bang for your buck.
The NVIDIA GeForce RTX 2060 is an honorary mention as it gives strong performance for a solidly lower price than the P2200.
If you want the best performance, go with the Quadro P2200.
If you want the most bang for your buck, go with the Quadro P620.