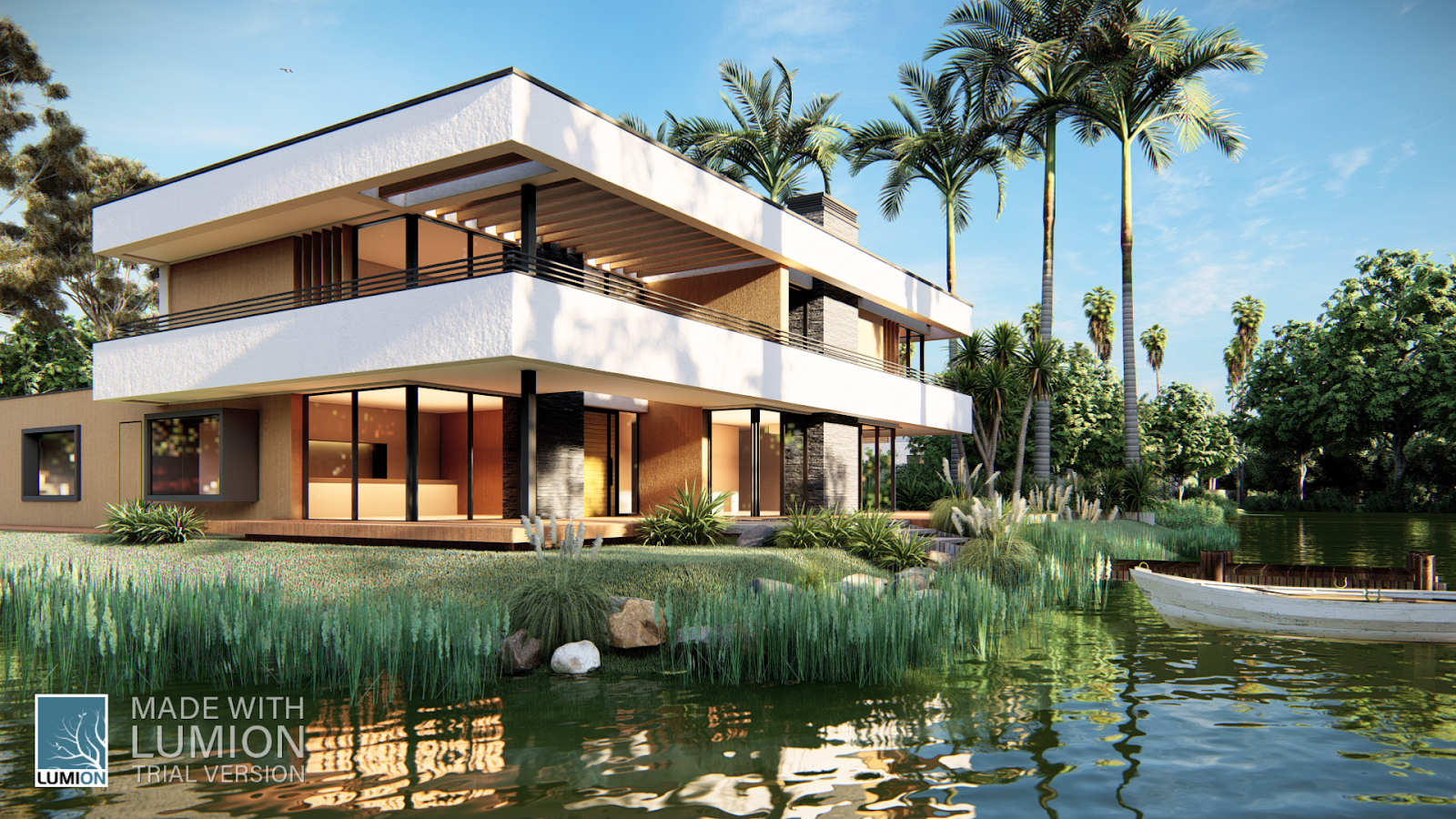 Introduction
This is a follow-up article to our Best GPUs for SketchUp article. SketchUp and Lumion are like two peas in a pod, so we wanted to offer a full platter of information regarding the pair. Lumion is often used in conjunction with SketchUp and other CAD software because it's easy to import the geometry from something like a SketchUp model and render pretty pictures and movies with significantly enhanced visual effects. As a result, Lumion 10.5 has vastly more intensive hardware demands than simply using something like SketchUp alone.
Buy your preconfigured SketchUp workstation at one of these links:
Our Contenders
We tested Lumion with several levels of GeForce cards as well as a few Quadro Cards.
GeForce RTX 3080
A serious heavy hitter from NVIDIA's brand-spanking-new GeForce RTX 3000 series. This is one of the strongest GPUs that money can buy right now for DirectX-focused 3D applications. They are in very scarce supply at the time of this article and as such, prices are sky-high.
GeForce RTX 2070 SUPER
Before the release of the GeForce RTX 3000 series, the RTX 2070 SUPER has been our bread and butter mid to high end 3D rendering card, offering a solid step up from the P2200 without requiring almost doubling the price to get to the RTX 2080 SUPER or the RTX 4000
GeForce RTX 2060
The RTX 2060 is the current-best budget option for DirectX-focused applications.
Quadro RTX 4000
The RTX 4000 is the first step in the RTX line of the professional-oriented Quadro series and is nothing to sneeze at when you want to start talking about real graphics performance. Unfortunately, it's usually out of its element when talking about 3D DirectX focused applications, such as Lumion.
Quadro P2200
The P2200 is the most recently launched addition to the Quadro series and serves as our typical mid to high end Quadro card for 3D OpenGL-oriented applications.
The Test Environment
We decided the best way to quantify the performance of various GPUs in Lumion 10.5 was simply to measure the amount of time it took each GPU to complete the same video render. We used an example movie animation clip from an example file included on Lumion 10.5. The example file was called Villa Von Manen. We performed a render at 3 out of 5 stars in the settings, which has all effects enabled and 4x anti-aliasing. The movie was rendered at 25 fps at 1080p quality. Here is the configuration of the testing machine that was used: Motherboard: Gigabyte Z490 UDCPU: Intel i9-10900KCPU Cooler: Corsair H115i PRO XTRAM: Corsair Vengeance 64GBHard Drive: Samsung 970 Evo+ 250 GB
Results
Without further ado, here is what we found.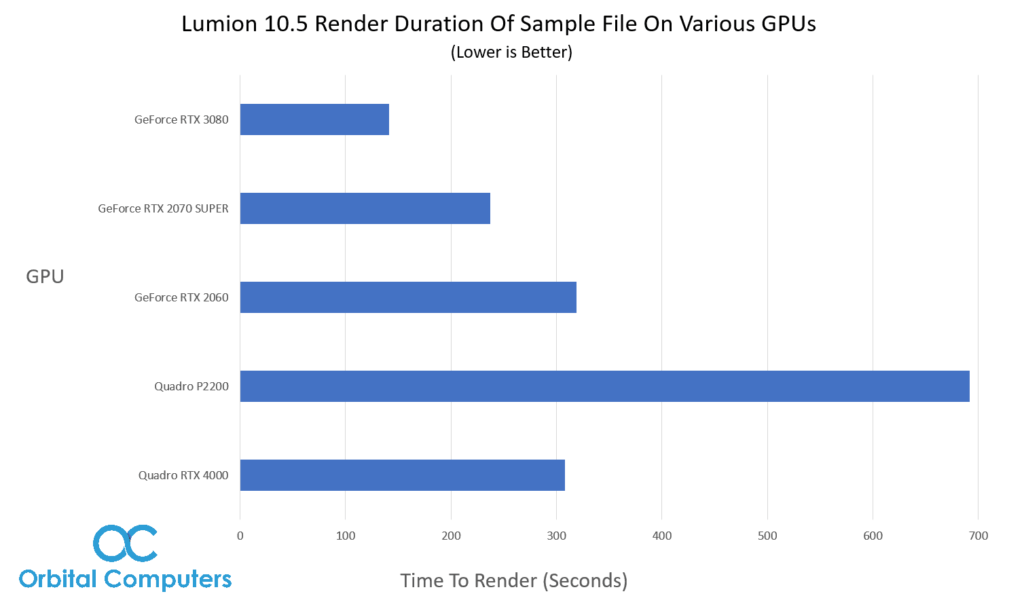 Since this is a graph of the amount of time it took to perform a render, the lower numbers indicate better performance. The GeForce RTX 3080 was the clear winner as to be expected. The GeForce RTX 2070 SUPER still put up solid results, trailed by the suboptimal performance of the Quadro RTX 4000 and the GeForce RTX 2060. This result is pretty embarrassing for the Quadro RTX 4000 in this application considering that the GeForce RTX 2060 costs about 1/4 of the price.The Quadro P2200 just looked completely lost in this test. Overall, the Quadro cards have their place but it's not in Lumion if you can avoid them. To give a sense of the general user experience, we also took note of some general frame rates while navigating the example file in build mode with all of the effects enabled. GeForce RTX 3080 – 50-52 FPSGeForce RTX 2070 SUPER – 30-35 FPSGeForce RTX 2060 – 27-30 FPSQuadro RTX 4000 – 27-32 FPSQuadro P2200 – 11-12 FPS We would highly recommend not going below 30 FPS or your user experience will be unpleasant if not outright unusable. The 2070 SUPER makes our cutoff for achieving 30 FPS without making sacrifices. Anything less powerful will require compromises to the workflow in order to maintain 30 FPS.
Key Takeaways
As a note on CPUs, we observed that while Lumion 10.5 is multi-threaded to an extent, it only really makes meager use of up to 6 threads, so we still suggest going with a high clock speed processor like the Intel Core i7-10700K or the Intel Core i9-10900K to maximize single-thread performance. Especially since it would greatly benefit a CAD program often used in conjunction with Lumion. GPU wise, the sky seems to be the limit on the amount of resources Lumion will use in a single card (it can't make use of multiple GPUs). That being said, we would recommend using the NVIDIA GeForce RTX 2070 SUPER as a baseline for being able to accomplish most things without making any major compromises. You can get away with using the RTX 2060 SUPER but it will definitely come with sacrifices. If you have the funds available you could absolutely still benefit from using an RTX 2080 Super or the RTX 3090 once those become more widely available.